Sosnówka to malowniczo położony obiekt oferujący noclegi w Szklarskiej Porębie, znajduje się na zboczu Czarnej Góry, w pobliżu Zakrętu Śmierci i szlaków turystycznych prowadzących na Wysoki Kamień i w Góry Izerskie. Z drugiej strony widok na Karkonosze – od Szrenicy po Śnieżkę, a w pobliżu stok narciarski i wyciągi orczykowe Dolina Szczęścia, DinoPark oraz Park rodzinny Esplanada.
Sosnówka – noclegi Szklarska Poręba. Dla Gości: 29 miejsc, jadalnia, sala rekreacyjna, ogród, plac zabaw dla dzieci, grill, sauna, parking.
Obiekt położony ok. 1,5 km od centrum Szklarskiej Poręby, z zapierającym dech w piersiach widokiem na całe pasmo Karkonoszy. Właściwie bez wychodzenia z obiektu można poczuć atmosferę gór. To idealna lokalizacja dla osób, które już kochają góry, jak również tych wszystkich, którzy dopiero zaczynają swoją przygodę z Karkonoszami.
Teren jest w całości ogrodzony, podwórko utwardzone, mury oporowe granitowe. Pensjonat funkcjonuje przez cały rok, można więc bez przeszkód rezerwować noclegi zarówno w sezonie, jak i po nim.
Sosnówka to propozycja wczasów w górach dla samotnych podróżników, par i małżeństw, zakochanych, rodzin z dziećmi – słowem: każdego, kto chce wypocząć w górach w pięknych okolicznościach przyrody.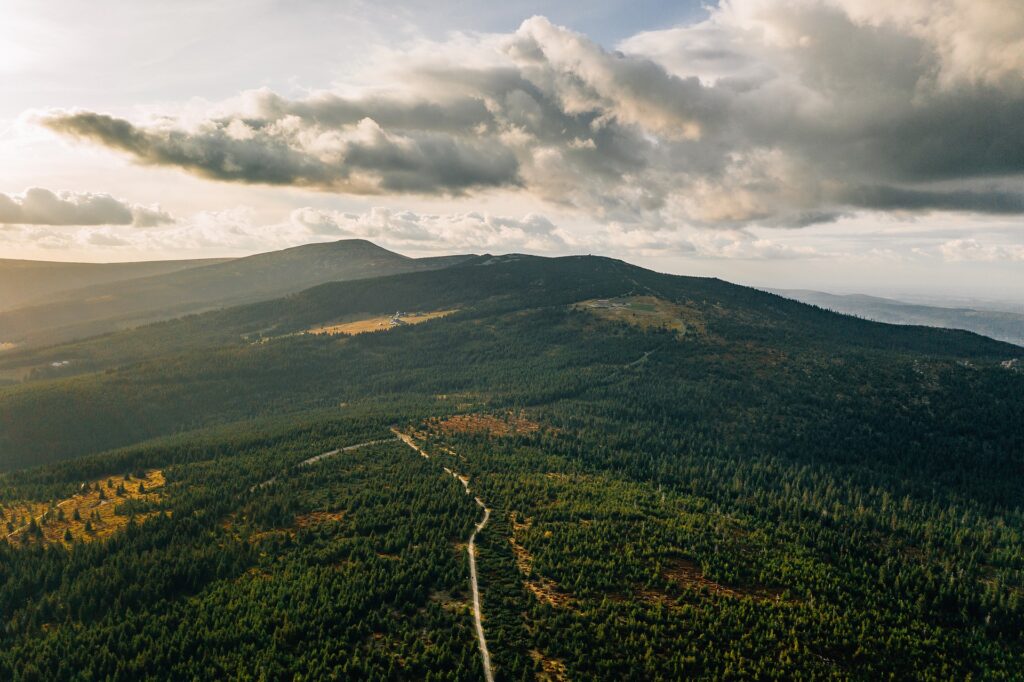 Dla Gości przygotowano liczne dodatkowe atrakcje, m.in. sauna. Najmłodsi Goście również nie będą się tu nudzić, przygotowano dla nich bezpieczny plac zabaw, tak by maluchy pod opieką dorosłych mogli miło spędzić czas.
Szklarska Poręba jest popularnym miejscem turystycznym, dlatego oferuje szeroki wybór noclegów dla odwiedzających. Można tu znaleźć zarówno hotele, pensjonaty, jak i kwatery prywatne czy schroniska młodzieżowe oraz wygodne apartamenty. Ceny noclegów w Szklarskiej Porębie zależą od sezonu i rodzaju zakwaterowania. Co oczywiste, hotele są zazwyczaj droższe niż kwatery prywatne, ale oferują więcej wygód i udogodnień, takich jak basen, sauna czy restauracja. Kwatery prywatne z kolei są często sporo tańsze, ale mogą być mniej wygodne i mieć mniej udogodnień. Wiele osób decyduje się na rezerwację apartamentów, które łączą w sobie duży komfort z dobrą ceną.
Apartamenty w Szklarskiej Porębie mogą się różnić pod względem wyposażenia i udogodnień, ale w większości przypadków można liczyć na podstawowe wygody, takie jak w pełni wyposażona kuchnia, łazienka z prysznicem, telewizor oraz dostęp do Internetu. Niektóre apartamenty mogą też oferować dodatkowe udogodnienia, takie jak basen, sauna, taras czy miejsce parkingowe. Ceny apartamentów w Szklarskiej Porębie zależą od sezonu i rodzaju zakwaterowania, ale zazwyczaj są niższe niż w przypadku hoteli czy pensjonatów. Możesz więc skorzystać z oferty apartamentów, jeśli chcesz zapewnić sobie więcej niezależności i komfortu podczas pobytu w tej miejscowości.
O Szklarskiej Porębie:
Szklarska Poręba, zwana również "bramą" do Karkonoszy, to malownicze miasto, idealne dla osób zainteresowanych uprawianiem sportów zimowych. Piękny krajobraz przyciąga na wczasy niezależnie od pory roku. Liczne i dobrze rozbudowane trasy biegowe, wyciągi narciarskie i nartostrady bez wątpienia zadowolą nawet najbardziej wymagających narciarzy oraz turystów.
Szklarska Poręba to nie tylko miejscowość nastawiona na zimową turystykę. W cieplejszych miesiącach można aktywnie wypocząć korzystając z aż 450 kilometrów tras rowerowych. Są one dostosowane zarówno dla amatorów jak i profesjonalistów – można wybierać z pięciu poziomów trudności.
Latem w Szklarskiej Porębie jest wiele atrakcji, które można robić na świeżym powietrzu. Poza aktywnym wypoczynkiem, można korzystać z licznych kąpielisk i basenów, a także zwiedzać okoliczne zabytki i muzea. Latem w Szklarskiej Porębie organizowane są również wiele imprez i festiwali, takich jak Dni Szklarskiej Poręby czy Festiwal Górski.
Niezależnie od preferowanego stylu wypoczynku, zdecydowanie warto przyjechać do Szklarskiej Poręby chociaż na kilka dni. Piękna okolica, styl budynków, sportowe i muzealne atrakcje z pewnością zadowolą nawet wybrednych wczasowiczów. Zapraszamy również do Zakopanego, gdzie w zaprzyjaźnionych obiektach noclegowych można wypoczywać o każdej porze roku.